Audio Version:
Recently, the writers at Squadhelp reached out and asked if we would be interested in promoting an article for them with information on positioning your brand in the new year. As your small business marketing partner, it felt like a great fit for our B Creative blog. My goal in 2023 is to do whatever it takes to propel your business further this year than you went last year … whatever that looks like for you. When Squadhelp submitted their blog for review, I was excited to read it and couldn't wait to share their tips on positioning with you. Take a read below and be sure to reach out with any questions on how this article can relate to your specific business and goals!

Cody
If a company's offers are out of sync with its intended client base, its performance will suffer significantly. Businesses must constantly supply products relevant to their target audience to secure exceptional sales in their market.
But your product's marketability depends on more than just how well it functions, looks, and feels. It also involves how you present it to your customers and if its tone resonates with your target market. 
And when it comes to aligning the tone of their business with one that resonates with their target audience, the majority of new companies face a problem.
This problem is readily avoidable if businesses undertake comprehensive market research, but unfortunately, many entrepreneurs fail to do so, causing their products to not do well in the market.
We conducted this extensive research to provide you with a clear picture of how various customers respond to companies with either a modern and progressive brand tone or a historical and conventional one.
What Inspired This Inquiry?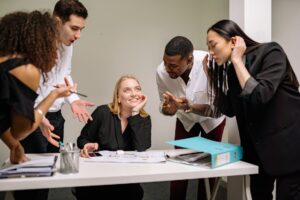 We were curious to understand which businesses clients preferred and how age variations affected their preferences.
As an entrepreneur, you should be aware that getting an exciting brand name with a matching 3 letter domains for sale and matching them with your brand identity and other branding components that appeal to the expectations of your target market is critical to enhancing the chances of your company's success.
This survey aims to show you what kinds of brands and brand tones people in your market appreciate and patronize. With this knowledge, you could focus your branding efforts by knowing which brands consumers in your market commonly trust and prefer based on the outcomes of this survey.
To achieve our study's objective, we conducted interviews with American consumers to see whether they preferred doing business with firms that employed traditional and familiar brand tones or those that used fresh and imaginative ones.
How Applicable is This Research?
Be aware that selecting the right brand positioning strategy is one important decision business owners have to make when beginning or rebranding their company. It has a significant influence on how customers interact with and perceive your brand's persona.
However, as you begin constructing a brand positioning plan, you must first study your target audience and the kinds of companies and products that they prefer. No single product will appeal to everyone, and there is no way to avoid it.
However, this is why your items are made with certain people in mind. These people are your intended audience, the people that would make up your core customer base and that your products must appeal to.
However, if your selected brand tone does not appeal to your target market, your business will fail to connect with its core consumer base, and you'll soon be overshadowed by rivals.
An extensive market survey is required for brand positioning, which is one of your company's most important components.
Let's now Examine the Findings of our Research
To make our findings more straightforward, we divided the data we collected into different age groups. Even though the survey's results were not very surprising, the replies we received were pretty fascinating.
Here are the results of the 301 survey respondents we interviewed:
According to the survey, younger clients between the ages of 25 and 34 are considerably more likely to be drawn to firms with a fresh and trendy tone.

Courtesy: Squadhelp
Consumers aged 35 to 44 are equally appreciative of modern and cutting-edge businesses. However, considering how closely the results matched, it is clear that both solutions will appeal to this group.

Courtesy: Squadhelp
According to the data, buyers aged 45 to 54 favor trustworthy, traditional firms.

Courtesy: Squadhelp
Customers aged 55 to 65 particularly favor historic businesses.

Courtesy: Squadhelp
Our study shows that males do not have a distinct preference for old or modern firms.

Courtesy: Squadhelp
Women, on the other hand, prefer famous, established enterprises over innovative, young start-ups.

Courtesy: Squadhelp
143 of the 301 participants chose new, creative enterprises, while 158 preferred established, traditional businesses.

Courtesy: Squadhelp
So, in order to get the best results, any name you come up with for your company should attract your intended market. Determine which age category your target market belongs to and use a tone that appeals to their preferences when choosing a name for your brand.
Use a Consistent Tone
One reason we've seen business owners skip this essential part of their company's development is the high cost of market research, which few of them can afford, especially when their brands are young. But now, with the help of our findings, you can choose the best tone for your company.
Use the poll's results to shape your business strategy, sales techniques, and brand image. Creating a solid brand image for your company will take time, expertise, and effort, but if your brand tone is constant, your business will be recognizable and valued in the marketplace.
Grant Polachek is the head of branding at Squadhelp, a 3X Inc. 5000 company and premium naming agency. After examining over 1 million names, Squadhelp has compiled a list of the top domain names currently available on the internet. We are also the leading brand name crowdsourcing platform, and we've helped countless clients, from Fortune 500 companies to rising startups.