There are many website platforms out there that allow you to conveniently build your website, but none are quite as easy and small business-friendly like WordPress. From setup to publication, WordPress seamlessly creates a well designed site that can be optimized for all of your small business needs. Here's why we love it:
Easy Setup & Low Cost
One of the best things about WordPress is that it makes getting started so simple. You don't have to be a master coder or have a degree in web design to create a great site, WordPress makes all of the processes easy and defined for you as they walk you through the creation of your site. WordP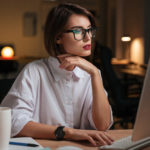 ress offers a free, basic website option that still looks beautiful, you just won't have the option to own a domain name. That may be okay for non-monetizing sites
but if you are trying to build an eCommerce site, a few bucks a year will give you access to your own domain name.Web hosting will be another cost to incur, but again, it is usually a minimal amount per month. Once you have these capabilities set up WordPress does the rest through their platform.
Secure & Safe
WordPress has been boasted as one of the most secure platforms available. As the most popular website platform, they are constantly updating and arming their customers with the tools to protect their information. Did we mention, most of this happens automatically so you don't even have to lift a finger to make sure that you are vulnerability-free.
SEO Functionality
With built-in search engine optimization, WordPress makes driving traffic to your site simple. The WordPress software itself is designed in a way that makes the sites that are built in WordPress very crawlable for Google. The platform also offers many plug-ins (most are free) to help with SEO and to increase your page rank position. Producing relevant search results related to your content has never been easier.
Themes, Themes, Themes
The way your website looks can directly affect your business' success and credibility. No one wants to land on a page that still belongs in the 1990s, much less, complete a sale on it. With WordPress you can browse a plethora of themes most of which are free and customizable. For many businesses, the website is the first impression they have with a potential customer, so it is crucial that the content be presented in a way that reflects well on the brand and allows customer connection.
Versatility
As your business grows and takes on more traffic, WordPress is versatile and can grow with these changes without losing optimization and functionalities. Traffic remains manageable, and the numerous plug-ins offered keeps all of your media and content in working condition. The variety of plug-ins offered can also help you achieve any action imaginable.

So given that information, why hire the professionals at B. Creative for your next website design? By putting the website design portion in our hands, this allows you to focus on what matters most, running your business! At B. Creative, we love using the WordPress platform which allows us to seamlessly partner with the small business owners we serve when helping them build a beautiful site that finally gives them a client-facing presence. We aim to collaborate with you, the small business owner, so that you feel comfortable making minor updates to your site when needed. Let's build a great site together!